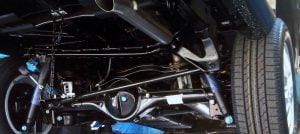 Not all undercoating is the same. At The Finer Details, we undercoat every vehicle as if it were our own and the last one we ever buy.
Many shops only undercoat the body, but we do the body, frame, and front suspension. Dry to the touch, but remains flexible so it won't crack or chip off. Also, it dampens road noise and adds value for resale.
What is Undercoating?
Undercoating is a wax or rubber-based composite that's sprayed onto the underside of the vehicle to create a rust-proof layer between the vehicle and road elements such as ice, water, salt on the road, and more. At the Finer Details in Victoria, BC, we undercoat the entire underside of the vehicle including the frame and suspension – not just the body.
The process typically takes one day for the undercoating material to sufficiently dry and adhere to the vehicle. Over time, the coating will get worn down by the elements (rainwater, salt, other elements) and should be recoated every few years to ensure protection for your car and/or truck.
Call us today to discuss undercoating your vehicle.
Looking for other protection for your vehicle? We offer a full suite of vehicle protection for the interior and exterior of your car, truck, or SUV.